First, the bad news.
If proposed tax increases on both the state and federal levels succeed, small business owners who wait until after the end of 2021 to sell their business stand to lose significant profit.
A report from the New York Times on April 20th reported President Biden's proposed tax plan includes a 19 percent increase of the top capital gains rate, taking it from 20 percent in 2021 to 39.6 percent in 2022. Additionally, the Washington Legislature this week approved a new, 7-percent capital gains tax for the state and sent it to Governor Jay Inslee, who led the effort, for his signature.
If you sell your business for $10 million in 2021, with the current 20 percent capital gains rate you pocket $8 million after the sale. To make that same $8 million after January 1, 2022, you would need to sell for more than $13 million — meaning your business needs to increase in value by nearly a third. If your business is in Washington, you'll need to increase the value by nearly $5 million — just to make the same profit you would have made in 2021.
To put it another way, you could sell for less this year and pocket more. Selling your business for $8 million today would put $360,000 more in your pocket ($1 million more if you're in Washington) than selling for $10 million next year.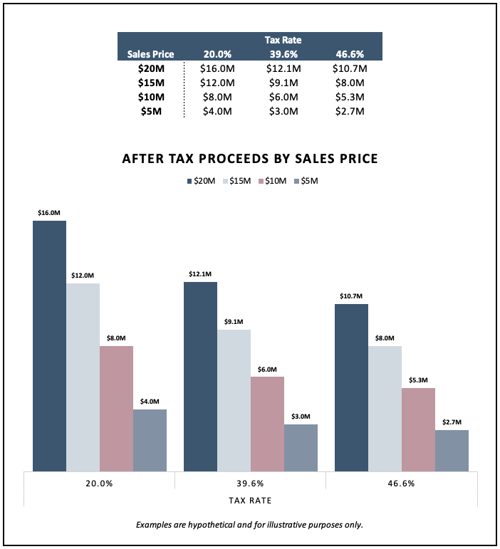 The Good News
We're seeing several data points that support a strong rebound to the economy.
Banks are well-capitalized and aggressively looking for new deals (US Bank)
The earnings outlook has improved and it's reasonable to expect a significant recovery in the economy from this point (Cultivant)
The University of Michigan finds consumer confidence is on the rise
Puget Sound unemployment decreased from 16.6 percent in April 2020 to 5.9 percent in April 2021 (Kidder Matthews)
Projected job growth around the region is 1.7 percent for 2021, increasing to 5.4 percent in 2022 (Puget Sound Economic Forecaster)
More Bad News
The pandemic put a pause on most business sales for the majority of 2020, resulting in pent up demand. Couple that with the fact that baby boomers, who begin turning 75 this year, own more than 3 million small businesses across the U.S. Many of these boomers don't want to struggle through another recovery and are opting to sell now, possibly a few years earlier than originally planned.
The result: We now have a buyer's market with a steadily increasing inventory of businesses for sale, which will soon impact business valuations. Even more importantly, we expect it to become increasingly challenging to even sell marginal businesses.
What This Means for Business Owners
If you have considered selling your business in the next few years, you should quickly evaluate whether it would be better to sell in 2021.
What you may not realize is that selling a business typically takes 9-12 months. And if you want to have a reasonably good expectation of completing a transaction in 2021, you will want to have a signed letter of intent by the end of September, because due diligence and closing commonly take 90 days. That means we have a little over five months to prepare and market your business, identify a buyer and negotiate terms. It can be done, but there isn't much time to spare. Assembling and working with a good, experienced team will increase your likelihood of completing a successful transaction quickly.